Hot water system
New, modern and energy efficient hot water supply system construction is one of the main priorities of RENESCO building renovation projects.

RENESCO reconstructed hot water system: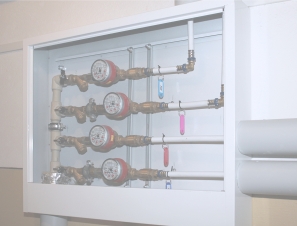 The number of water raisers and smaller diameter pipes have been optimised (including the use of pre-insulated pipelines as far as possible);
Horizontal main pipelines have been laid in the layerof insulation in attics and basements;
Heat losses have been significantly reduced in the hot water circulation system (up to 90-95%);
Lower costs of total building energy consumption, as the new hot water system requires smaller capacity circulation pump;
In order to meet the requirements specified in regulatory enactments regarding hot water preparation, each branch of the apartment has been equipped with a non-return valve, particle filter, flow controllers and valves.
In order to improve the management of the building and to facilitate hot water metering, individual hot water meters are installed for all the apartments in metal lockers in the stairwell.